When launching your digital signage project, you want it to be perfect. You want on-point content, gorgeous screens, and a high level of engagement. But how can you optimise it?
Sometimes it's good to step back from your screen project. Consider what's going to make your screens as good as they can be.
In this blog, we cover our top 7 digital signage considerations. From branding and templates to selecting the right screen, we've got your back!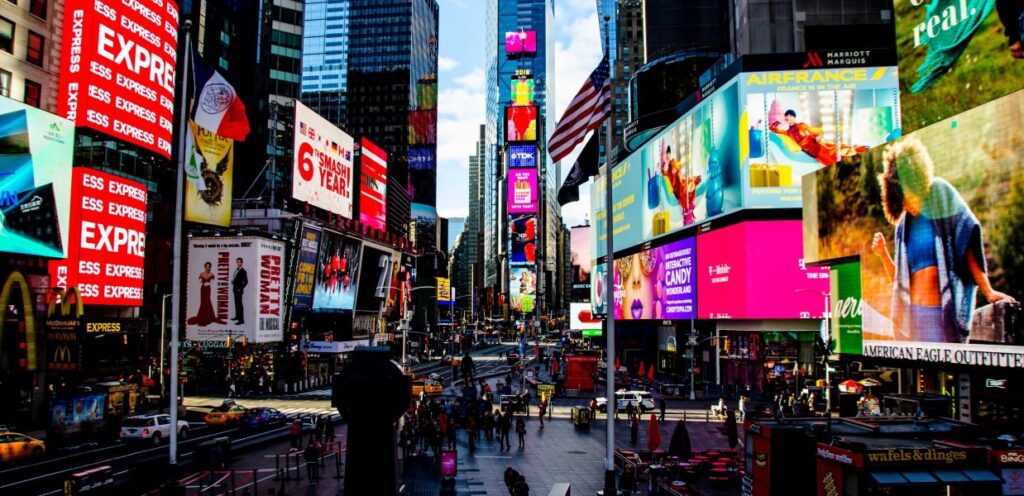 Branding
The first of our digital signage considerations is branding. Branding makes you, you. It helps you stand out from the crowd. It makes you recognisable. Clear, consistent branding is critical.
Consitency – it's a good idea to keep branding consistent across all areas of marketing for your business. Your digital screens, social media feed, as well as emails (etc) should all feature the same fonts, colour palette, templates and tone of voice. Having brand guidelines means that your audience can recognise you immediately. Your aim is for a potential or exisiting customer to look at anything you push out and to know that it's you.
Finding your niche – We all know the iconic Nike swoosh. The jingles for ASDA TV adverts. That the slogan 'because you're worth it' is L'Oreal, and McDonalds stand out colours are red and yellow. All of these elements are unique, niche and instantly recognisable. You hear, see or read these, and you pair them instantly to the organisation. This is the power of branding. Have a think about what elements you can use in your branding to make you instantally recognisable.
TIP: You can create a brand pack on the likes of Canva. This allows you to save time creating content (and everything will be bang on brand).
We love how Laing's use screens for branding purposes. Laings have gone a step further and added a golden frame around their video wall. This helps amplify the feeling of a luxury brand. Luxury screens for a luxury brand.
Top 7 Digital Signage Considerations for 2022 TrouDigital
Laing's Jewellers
Go bold
When you publish content to your screens, the last thing you want is the message to fall into the darkness. So how can you make sure your messages stand out? How can you ensure they are read by your audience?
Bold colours – using bold colours on your screen content can help your content stand out. Using bright, complimentary colours can be a great way to make your content pop. There are many colour theories – therefore it may be worth Googling (other search engines are available) what colours work well together.
Bold fonts – larger, clearer, bolder fonts are often easier to read on screens – compared to thin and curly fonts. This is especially true for your main headings. If it's not possible to use bold fonts (bold version doesn't exist) use a larger font size.
TIP: Use a colour picker or eye drop tool. These allow you to hover over anything with colour and copy the Hex code of it. You can then copy and paste the tag into Canva or another editing software and use the same colour.
Selecting the right screen
Selecting the right screen for your digital signage project is critical. So important in fact, we've written a whole blog on how to choose the right screen.
Here are the top digital signage considerations in terms of screens:
Screen brightness
Display orientation
Screen size
Touch screen capabilities
Cost effectiveness
If you can nail all 5 of the above points you're bound to choose a screen that launches your project to success.
We love how Pabellon Venezuelan Food has used bright and eyecatching screens for its menus. The extra brightness helps content punch through glare on bright days. This ensures the menu is always visible. If they didn't consider screen brightness in this project, the content would be barely readable on bright summer days – not ideal when you're an award-winning food truck!
Top 7 Digital Signage Considerations for 2022 TrouDigital
Pabellon Venezuelan Food truck
Templates for digital signage
In all areas of business, templates are hugely popular. They allow for quick consistent content.
Create multiple templates – again, back to Canva (We love Canva, not sure if you noticed). Creating a bunch of templates is another good idea (if you love saving time and being efficient). For your digital screens, you can create a number of different templates, all for different types of screen cotnent. Whether you want to show special deals, COVID information, or a template to drop in weather, or traffic alerts – you can create them on via Canva (Psst… we have a Canva integration on our online studio. You'll thank us later).
Efficient design – With a template, all you need to do is swap out the text and images. This means you can create great looking content in seconds. Furthermore, it helps you stay consistent with your designs. Use the same colours, font style and positions time after time.
FACT: According to a study, a key challenge for Internal Communications Managers was the time taken to design and create content. It was the most time-consuming activity for 58% of the respondents. To help manage their time more efficiently, Internal Communications Managers use templates across their networks. Whether it's for social, email, text, or their screens, templates are at the heart of efficient communications. With templates, these Managers can get business-critical messages out in an instant.
Image Quality
Thanks to most of us getting used to 4K displays and some of us having them in our pockets, we've become image quality snobs. We're all so used to seeing super crisp high definition images that when we see one of poor quality we move on. Furthermore, low-quality images can make certain elements hard to see. As a result, your messages could be lost!
Whether it's marketing material directing customers to the next step or an image of your products and services, your images need to be clear. If you don't have high-quality images, this digital signage consideration is for you.
High quality images – for your advertising material, image quality is super important. It helps present you as more professional (because you are). Imagine seeing a fuzzy low resolution image in the window of a shoe store. You might think "those guys don't know what they're doing". – I.e. it probably won't look great.
Storage – With increased sized storage devices, this is a rarer issue these days. However, it's important to be aware that higher quality images take up more storage space. Therefore, it can be good practice to upload images in the size they'll appear on your screens. For example, if the image is only taking up the bottom right quarter of the screen, it won't need to be a full-size image. Instead, you could upload one a quarter of the size and get the same desired effect.
Top tip – to get high quality images, you can use a stock image website. We tend to use Unsplash to source images. Or take them yourself. Generally, the latest phones have amazing cameras that almost match cinema quality!
Top 7 Digital Signage Considerations for 2022 TrouDigital
British Airways
The 'Call to Action'
Among our digital signage considerations, this is an important one! Considering your call to action is an important step of your screen project. CTA's (Calls to Action), tells the user what to do next. Examples include buttons that say 'click here', 'buy now', 'call', or 'book a demo'. Other CTAs include text that tells the audience to call or visit. A CTA should be strong and clear. It should tell the audience what to do next with clarity. There should be 0 confusion.
Not all content will require a CTA. If you are trying to invoke an action, however, it's essential.
The importance of CTA – Above all, one study found that adding a CTA button to their article templates increased conversions by 83%. It boosted eCommerce conversions by 22%. Copyblogger found similar results; when CTAs looked like buttons instead of plain text, conversions increased by 45%.
Content Types
There are many different types of content that you can incorporate on your screens.
Different content may suit your goals/audiences better. For instance, if you're promoting houses, you may want to create collages of the homes and use slideshows to show offers. If you're a cafe owner, then you may wish to use a static menu or change the display when it comes to breakfast and lunch.
Variety is great because it keeps your displays entertaining and engaging.
In the customer journey blog, we also mentioned types of content to display, as followed:
Videos
Animations
Facts
Limited time offers
Countdown timers
Live feeds
Social media
QR codes
Reactive content (personalised via numberplates or RFIDs)
Strong branding
Company messaging
Questions
Reviews
Content being across industries
We've compiled a list of content being used across a range of industries now. Please take inspiration from this:
General information like – date, time, weather, and traffic
Football clubs – upcoming fixtures, display video interviews, highlights, food menus
Airports – departure times, delays, navigation with kiosks
Estate agents – live property feeds
Car dealers – photos of cars they have in stock, price, specs
Internal communications – wellbeing tips, help numbers, key business messages from managers (information cascade)
Manufacturing – machine performance, KPIs
Marketing – products, discounts
Universities – term times, upcoming events, innitiatives
Top 7 Digital Signage Considerations for 2022 TrouDigital